I love decorating tiered trays! I also love Marshmallow Topper. I think they are just so stinkin' cute.
I wanted to start working on my tray for Valentine's this year and the first project was to make a Valentine inspired marshmallow topper.
To get started on this adorable marshmallow topper you will need to get a pack of foam dice and white balloons from Dollar Tree.
PROJECT STEPS
Step 1.
Cut the neck off of the white balloons.
Cover the dice with 3 white balloons.
Step 2.
Cut a piece of felt in half.
Step 3.
Glue felt to balloon cover foam dice.
Use a piece of twine to tie the felt at the top to create the hat.
Step 4.
Apply a face to your marshmallow.
This can be done with markers or vinyl.
I purchase this FACE BUNDLE from Design Bundles for this project.
If you don't have a cutting machine purchase your PRE-CUT VINYL FACE on my website.
WATCH THE VIDEO FOR THE FULL TUTORIAL
MATERIAL LIST
Dollar Tree Items Used:
2 Foam Dice

6 White Balloons

Ribbon, String, or Twine
Other Items Used:
Hot Glue Gun & Sticks

https://rebrand.ly/Monvict-Hot-Glue-Gun

Cricut Explore Air 2

https://rebrand.ly/Cricut-Explore

Oracle Vinyl

https://rebrand.ly/Oracle-AMZ
Designs By Gaddis
Pre-Cut Vinyl Faces https://rebrand.ly/PCV-Faces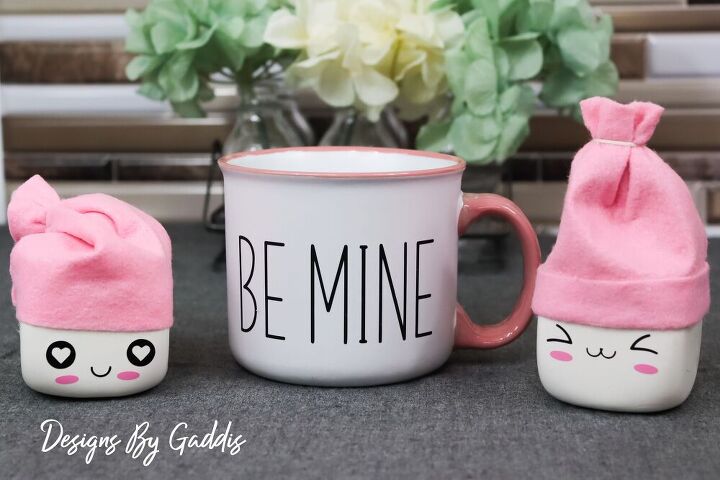 to get FREE Printables and Special Deals only for my subscribers.
My Disclaimer: All of the video footage, photos, and designs are created by me and are owned by Designs By Gaddis. You may only use the video footage, photos, and designs with my permission. My content is mine and it is protected. I am not sponsored or paid by any of the product companies or tools shown in these videos unless otherwise mentioned. I have full rights and control of the content.
Copyright @ Designs By Gaddis 2020. Any reproduction or illegal distribution of the content in any form will result in immediate action against the person concerned.