I saw this cute printable on Pinterest and decided to make a wood sign using craft sticks and a canvas from Dollar Tree.
I started my DIY journey years ago by painting wood signs for family and friends. I love coming up with new wood sign designs and showing others how simple a wood sign is to make.
Step 1.
Remove the canvas from the frame.
I used a utility knife and a pair of pliers to do this.
Step 2.
Glue craft sticks onto cardstock.
Step 3.
Paint craft sticks.
I used white chalk paint, use a color that compliments the colors in your half bath.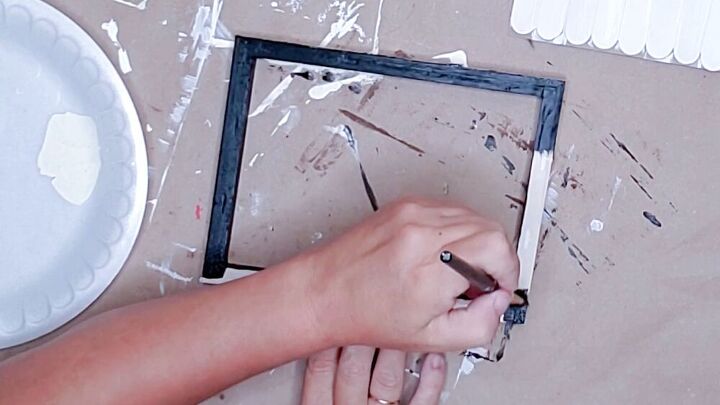 Step 4.
Paint the canvas frame.
I used black chalk paint on the frame.
Step 5.
Attach the frame to the craft sticks.
I hot glued the frame to the craft sticks.
Step 6.
***Sorry for the reverse letter, I was using a different camera and didn't realize it was recording backward. LOL
Step 7.
Create a messy bow and attach it to the frame.
Step 8.
Attach a hanger.
I used twine and glued it on the back so the sign could be hung on a wall or sat on a shelf.
Watch the Video for the Full Tutorial.
If you don't have a cutting machine and would like to make this DIY you can purchase the Get Naked Pre-cut Vinyl from Designs By Gaddis.
Join my community to get FREE Printables and Special Deals only for my subscribers.
My Disclaimer: All of the video footage, photos, and designs are created by me and are owned by Designs By Gaddis. You may only use the video footage, photos, and designs with my permission. My content is mine and it is protected. I am not sponsored or paid by any of the product companies or tools shown in these videos unless otherwise mentioned. I have full rights and control of the content.
Copyright @ Designs By Gaddis 2020. Any reproduction or illegal distribution of the content in any form will result in immediate action against the person concerned.